Brand is a funny creature. Sometimes it is so intrinsic that it can be difficult to put your finger on brand values and key messages – but, boy, when someone gets it wrong, everyone can see it.
Recently, Portsmouth's Spinnaker Tower announced that it would be entering into a sponsorship package with a premier brand. Then the news came that Emirates, the global airline, had been awarded the deal as part of a £5 million agreement. And as part of the contract the Spinnaker was going to be painted red.
Something of a backlash followed, most notably with football fans. If you were to associate any colours with Portsmouth it would be blue and white – the colour of the local team. As an aside, red and white are the colours of arch rival club Southampton so the thought of a red and white Spinnaker Tower looming over the city did not sit well. To the tune that 5,000 people signed a petition against the re-paint within 24 hours of the announcement. The news went national – and not in a good way for the Tower or Emirates.
And yet the council, which owns the Spinnaker, had already ordered 3,000 litres of red paint.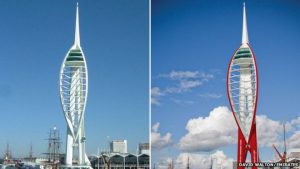 Did they not consider the impact of the announcement? It seems pretty obvious that there would be outcry. Despite local councillors supporting the sponsorship, and the revenue it is projected it will bring into the town, most local people were less keen (the Gosport MP even waded into the debate to support a constituent who asked for help to fight the re-paint claiming 'I'm with you').
Three days after the announcement the original plans were dropped, and the design is now being re-considered in the light of public response, and with stakeholders including the Chairman of Portsmouth Football club now being involved.
So what does this all show us when it comes to brand? It can be hard, when you're in an organisation, to step outside and remember the wider world, the opinions of other stakeholders and what your brand means to your customers. Sometimes it makes sense to get some perspective, ask experts to challenge your decisions and make sure your marketing strategy is properly thought through.