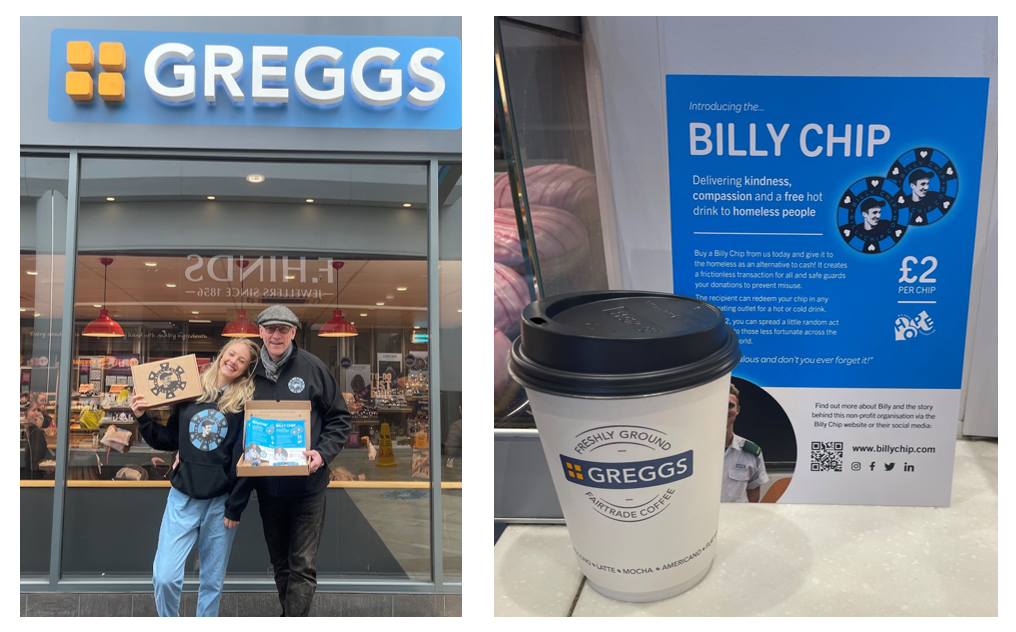 Last year we started working with BillyChip, a leading social enterprise spreading kindness and compassion through a safe and secure currency for the homeless.
We support the BillyChip team to provide PR and marketing support to help raise awareness of the brand across the South West, the UK and beyond.
BillyChip® CIC is a social enterprise platform which aims to empower rough sleepers. It allows people to purchase a BillyChip token from participating food and drink outlets which can then be given to rough sleepers and homeless people as an alternative to cash. They can then redeem the BillyChip for food, drink and other products.
BillyChip was established in 2018 to continue the legacy of Billy Abernethy-Hope, a twenty-year-old ambulance driver from Bristol. After helping support the homeless, Billy felt disheartened at how little the general public gave to local homeless people. Although many make regular charitable donations, Billy was surprised at the small percentage of donations given directly to people living rough for fear of the money being used for drugs or alcohol. The BillyChip offers a solution, delivering kindness, compassion and food and drink to homeless people in the UK.
In Billy's memory his sister, Meg Abernethy-Hope, and father Jon Hope, set up the charity. In 2021, Meg was awarded the Diana Award for her charitable work.
Jon and Meg have been invited to talk about BillyChip on BBC Breakfast, Sunday Morning Live and across local BBC radio stations in the South West. They've also enjoyed coverage in many well-known newspapers and magazines including The Times, Country Life, Bristol Life and Bath Life. The scheme has also enjoyed celebrity support from many in the public eye including Russell Brand, Tyson Fury, Example, Tom Kerridge and Russell Howard.
We're enjoying helping the BillyChip team in their aim to ensure that the BillyChip is available in every high street across the UK. We're keen to help make BillyChip a national enterprise and spread kindness and compassion to the homeless community.
Find out more BillyChip's work at www.billychip.com. Or get in touch to chat through your PR and marketing needs.