After moving to a new barn, we were extremely delighted to welcome two new team members! One full time and the other part time…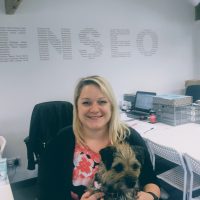 Jess Bull joined the Recenseo flock in February as PR and Content Executive from the homeware brand, Robert Dyas in Guildford. Having spent two years writing about how lawn mowers and kettles worked, she needed a change and hasn't looked back!
Jess has taken to the role like duck to water, or in the case of Recenseo, like roosters on the farm. Jess looks after a number of client accounts, juggling Inheritance Tax bulletins and moth samples press requests with cheese campaigns and brewery case studies! She has a passion for copy writing describing herself as a word nerd and lover of all things social media.
Jess is a key team player and never fails to deliver. And if we win a client in the homeware sector we can certainly count on Jess to write some cracking copy!
Our other new team member can't sit on a chair, but she does sit on your lap, she can't answer the door, but she can let us know when we have guests and she likes to sleep…a lot! Welcome Mia, a three year old border terrier who comes into the office twice a week and keeps us all under control!