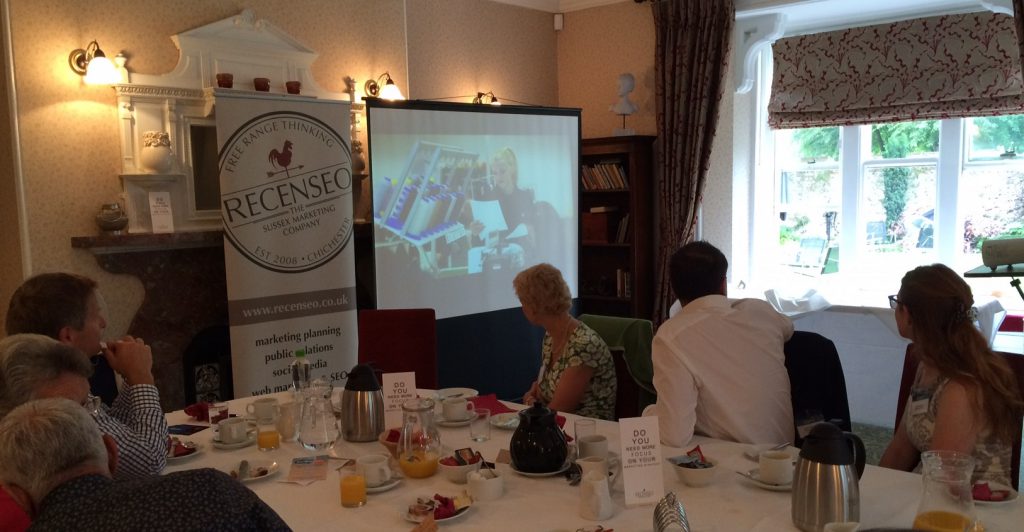 Recenseo sponsors and hosts three breakfast meetings for Chichester Chamber of Commerce each year and this month saw Rolls-Royce Motor Cars and local business owners discuss corporate social responsibility (CSR), the ethos behind it and its impact in the community.
As the global economy, and more prominently Britain, adjusts to the Brexit result, we debated how to integrate CSR/ community relations strategies to maximise commercial return and we asked the question do we even need CSR? Leading the discussion was Andrew Ball, Global Corporate Communications Manager from Rolls‑Royce Motor Cars, with the company's head office and manufacturing plant situated locally in Goodwood.
Andrew explained the global luxury brand's view on CSR and their strategic approach to ensure communities benefit, but also how they generate positive PR from it. Andrew noted, "CSR and community relations do not have to be a big thing. Sometimes it's the little things that make a difference."
Andrew gave us fascinating insights and exclusive stories he has encountered at Rolls-Royce Motor Cars. The key points Andrew discussed included:
Recognising PR doesn't just give you coverage, it gives the charity or community a voice;
Identifying that CSR is a core value that must be entrenched in the company, not just a 'tick in a box';
Understanding it's possible to do amazing things with limited resources.
In addition, it was evident CSR is not just about charity; it's about having a genuine interaction with the community a company operates within and this comes from having an internal ethos which runs through the core foundations of the company. Here at Recenseo, strong values and ethics are the cornerstone of everything we do. We are proud to support projects which benefit the local community and as such, in 2015 we created a programme providing free school breakfasts to disadvantaged children who may go without otherwise. This is a project we are continuing to grow and enhance today and we are very proud to be able to do so.
This philanthropic attitude towards CSR was evident from a variety of local business owners and managers at the meeting, who shared a number of compelling and often emotive stories with the group about their initiatives. It became clear that whilst not all the businesses present could boast the stature and financial power of Rolls Royce, they did all have one thing in common – a shared vision and an ingrained ethos regarding CSR and community relations. For many, CSR is a symbol of the firm and comes from the 'top-down', and this is instilled in the brand's core values and identity and can be seen in everything they do.
At our next Big Breakfast on 26th October we'll be joined by Neil Jarvis, Director of Industrial Operations at The Body Shop.
Spaces are limited to 20, to enable all attendees to join in with the discussion and you can book your place through the Chamber website here.