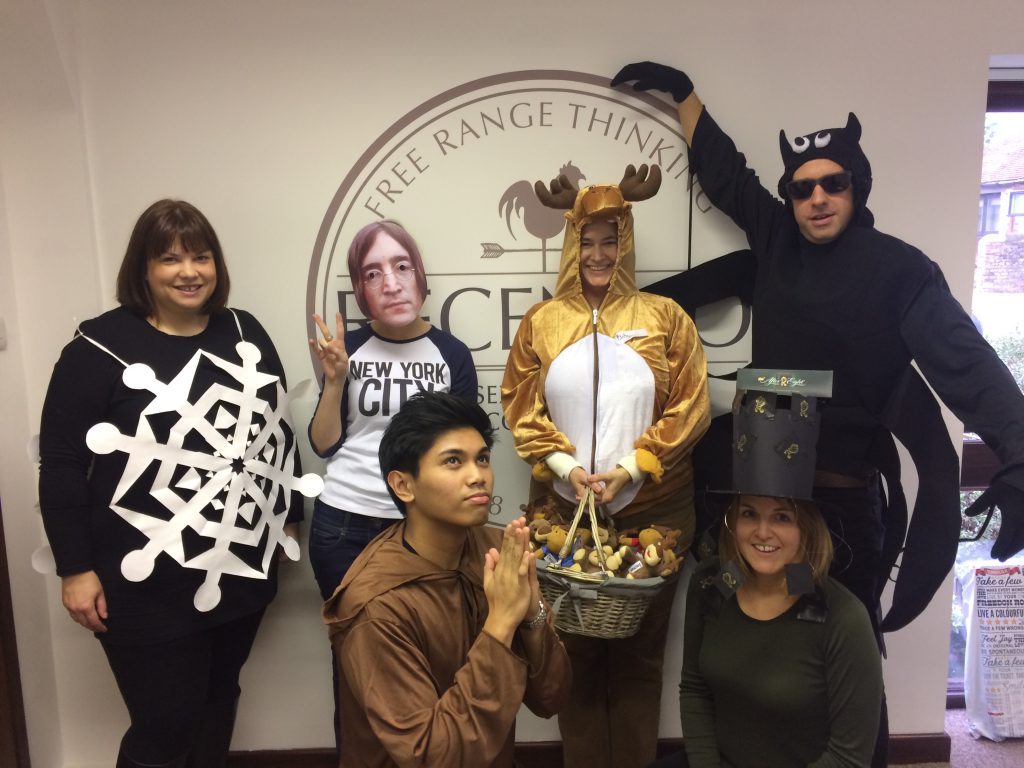 Eight years ago today I was sat in Jonathan Rowdens house sipping a beer, having taken a momentous decision with two amazing friends. Today, I am sat at my desk dressed as a spider. Why, I hear you ask and what's the connection? Well, it's that time of year again where we celebrate our birthday as a business and this year we are 8!
I strongly believe in celebrating the company anniversary as we continue to dodge the statistics that often dog start-ups. So, this year I set the team the challenge of celebrating the number 8 and then took the easy route of popping on to eBay and buying a giant spider dress up suit. As I sit here trying to type with eight legs (which is not easy) I look around the office and can see a hat made of After Eight chocolates, the eight reindeer that pull Santa's sleigh, John Lennon and a Buddhist monk – I'll leave you to work out the monk and John Lennon but it goes to show the attention to detail and research we put into our work every day.
The nice part about celebrating our anniversary at this time of year is it ties in with our financial year end and the actual end of the year, which offers a great opportunity for a bit of reflection and forward planning. So, I like to start the day on our birthday by giving the team a bit of an update.
This year in particular I am really pleased to have shared my reflections with the team, as 2016 (we only have 3 more weeks so I am safe to say) has been our record year, both in terms of revenues and profit. For the first five months of the year, we beat our record monthly sales every month which was fantastic fun and became a great challenge each month. We have come close to setting the record again several times during the remainder of the year, but 5-in-a-row is enough for me – what a wave to ride!
We head into 2017 with plenty to look forward to. We have a genuinely great group of clients and staff which makes coming to work a real pleasure. We have ambitious recruitment plans for more of each in 2017 so watch this space if you are job hunting and by all means contact me if you are reading this as a prospective client looking for an agency with a fresh approach.
Our new office is taking shape, all of 40 feet away and I understand that we will start the new year in our new home. Mi casa.. and all that so please drop by for a cuppa and a cake to check out our new surrounds.
I remain immensely proud to sit as MD of what is now an established business of eight years and as I reflect on the current year, I also think back over preceding years. We have come a long way and we are only here because of people – directors, clients, suppliers and our staff members past and present.
So I will end this blog post as I ended my presentation to the team this morning by saying thank you. Thank you to everyone that has helped and continues to support our business. I am genuinely grateful to each and every one of you and look forward to continuing to build on our relationships into 2017.
And remember, when it stops being fun, we stop!
Ben Cooper – December 8th 2016